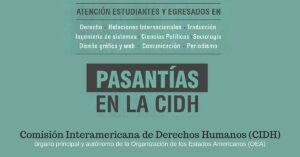 Know in advance this great opportunity. Internships at the IACHR. The IACHR is a principal and autonomous body of the Organization of American States (OAS) in charge of the promotion and protection of human rights in the American continent. The Inter-American Commission has an internship program that is administered in conjunction with the OAS Internship Program and offers the opportunity to young students or recent graduates from OAS Member States to meet and work in the Inter-American Commission in application of the protection and promotion mechanisms provided by the Inter-American Human Rights System. One of the benefits of this program is that the knowledge acquired during the internship is subsequently applied in the intern's home country. The calls are open!
OBJECTIVE
The objective of the internships is that students and recent graduates in law (or some other discipline listed above) have the opportunity to learn about the work of the Commission, as well as to carry out a professional practice in the field of human rights.
During the internship, the participants have the opportunity to work alongside the lawyers of the Executive Secretariat in the different activities carried out by the IACHR.
HOW TO INTRODUCE
Those interested should apply through the OAS Internship Program page. On this page they will be able to access online electronic application form. Access to the electronic form is possible only during the previously determined application periods that are indicated in Program page. In this form, please indicate your interest in doing the internship at the IACHR. It is important that interested parties review the requirements to apply and that they attach all the required documentation to the electronic form.
INFORMATION OF INTEREST
The IACHR / OAS internship program is unpaid.
If you are accepted for the internship, you will receive an official letter from the OAS that will help you with the corresponding procedures to obtain the visa. A special visa is required and can be requested once you are officially accepted into the program.
The internship program has set dates and durations. For participants meeting a university requirement with a specific duration, documentation from the university detailing the duration is required.
How to apply:?
For additional information visit Program page or click here: http://www.oas.org/es/cidh/empleos/pasantias.asp and check the dates, keep in mind that some opportunities are about to open again.
It may interest you:
Follow us on our networks!